The more challenging the better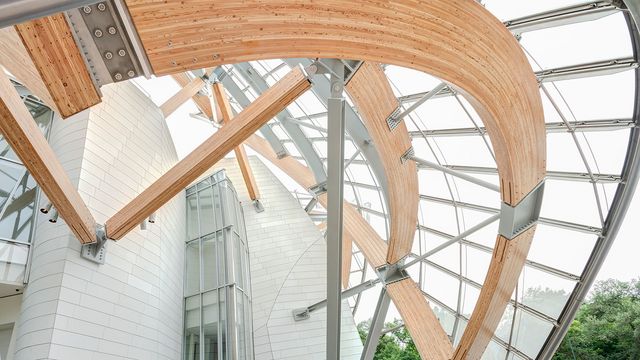 The Louis Vuitton Museum in Paris is a veritable feast for the senses in steel, glass and wood. The planning and design required boldness and inspiration. Precisely the right kind of challenge for Mathias Hofmann and his company Hess Timber.
Louis Vuitton is renowned worldwide as a manufacturer of exclusive luggage, handbags and champagnes. Behind the brand is France's richest man Bernhard Arnault. An art lover who recently commissioned the construction of the museum of the Louis Vuitton foundation in the south of Paris. The plans were drawn up by renowned North American architect Frank Gehry. Costs were not high on the agenda and the individual works were subject to the highest demands in quality and creativity.
Mathias Hofmann and his company Hess Timber won the tender for the timber sections of the winding and sophisticated roof structure comprising 12 sails. "The more challenging the better. I love such projects," says the man from Kleinheubach, Bavaria, of his philosophy. With his unconventional thinking and bold attitude to risk, Mathias Hofmann has earned a lofty status in international timber construction engineering. He somewhat regrets that his highly competitive day-to-day business, building supporting structures for standard buildings, has taken something of a back seat. The costs for major projects are high. "Each time you need practically new technology," he says. This was also the case for the Louis Vuitton Museum. The ridge girders required, partly comprising two arches, were produced on an in-house press bed. The client was impressed during the tender process by Mathias Hofmann's unusual style of rod-based block gluing. The highlight is a rod cover lamella that has the same visual appearance from above and below as from the sides.
That transporting the laminated beams, which are up to 28 meters long, through the Parisian metropolis did not cause chaos is attributable to another unorthodox idea of Mathias Hofmann – Hess Limitless. The procedure is based upon a special adhesion geometry and, in principle, enables girders to be transported in short, individual segments without length restrictions or loss of bearing capacity. The girders are then put together at the construction site. Mathias Hofmann can rely on excellent partners in WEINIG. Defects are cut out by an OptiCut at Hess Timber. Two PowerJoint systems take care of finger jointing the lamellae. A Powermat then planes the workpieces ready for gluing. "I have never regretted opting for WEINIG," says Mathias Hofmann.
Photo: HESS-TIMBER / © Rensteph Thompson