Planing, quickly and safely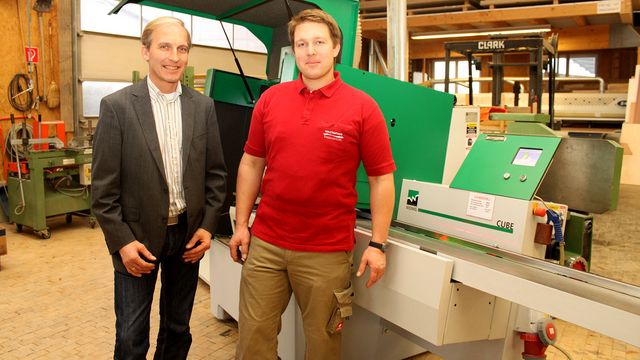 Efficient, simple to operate and safe to handle: Upper Austrian carpenter Holztrattner has acquired a compact, rapid and practical planer in the WEINIG Cube.

Holztrattner is a company with a long-distance effect, one might say. When approaching by car on the highway, you can already see a large sign from some distance away that reads: "Holztrattner. Your master carpenter with ideas." And Herbert Holztrattner certainly has some ideas: Living rooms, bedrooms, kitchens and bathrooms – the carpenter and his team cover the full spectrum of interior fittings. We can even fit out entire houses, says Holztrattner, who founded his company as a one-man operation in 1990.

EXPORT HIT: GARDEN FURNITURE
The 46-year-old, who completed his apprenticeship in cabinet-making, started out primarily with restoration work. The business has since steadily grown to a 12-strong workforce, including son Jürgen – also a trained carpenter – who has worked in the business for years. Restoration work is now just a small part of the workload. In addition to the core business of interior fittings, Holztrattner has also designed and produced its own garden furniture for a number of years. The garden swings produced by the carpenter have proven a real export hit. Holztrattner's first design was actually "only" a birthday present for his wife. However, the resourceful master carpenter has since developed the garden seating with characteristic C-shaped side rails and arm rests, improving the design, and even received a design award in 2003. The model is now sold with great success to Poland and East Frisia.

BY TRADITION: WEINIG
As a carpenter who works with solid wood, Holztrattner also has a planer in the workshop. For 17 years, the Quattromat 18 four-sided planer from WEINIG gave him good service. However, last year, he took the decision to acquire a new machine. Once again, he opted for a WEINIG machine: The Cube, unveiled by the wood machinery manufacturer at the Ligna trade fair in Hanover last year. In addition to the machine's qualities in terms of precision, Holztrattner was particularly impressed by its user-friendliness: "You don't have to adjust anything. The whole machine can be practically operated via a touchscreen. Even our apprentice in his first year can already use it." The planer is delivered ready to plug in, meaning that it can be immediately put into operation once set up. Additional training
was not necessary.

HIGH-TECH PLANING
Now, everybody in the business – including the boss – occasionally uses the Cube, which does S4S in a single pass while also making work easier with a range of additional practical features: The WEINIG EasyLock system allows quick blade changes with little intervention inside the machine. Dimensions can be changed while the machine is operating at the push of a button while the so-called MoulderPreView projects the spindle settings onto the workpiece by laser, allowing further optimization before machining. Herbert Holztrattner has also customized his new Cube visually: The machine exterior proudly bears a prominent company logo and motto. That way, the "master carpenter with ideas" is ever-present both in the factory as well as further afield.

Text and cover picture Thomas Prlic, Tischler Journal