Intelligent feat of strength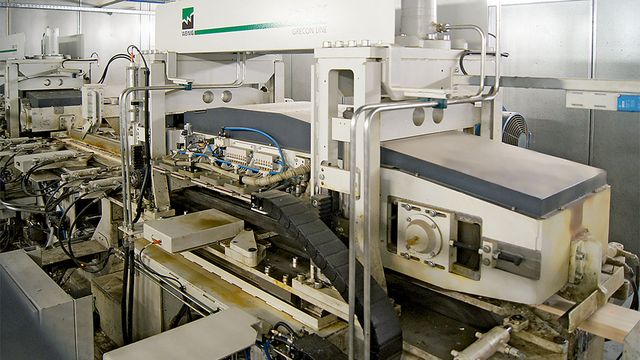 The glulam lamellae at Pfeifer in Imst, Austria, are pressed at 160 m/min and subsequently planed. The throughfeed press replaces four old machines.
The Pfeifer group commissioned its modernized production facilities in Imst at the start of 2013. Performance and wood savings were decisive in awarding the order, recalls authorized representative Dietmar Seelos. "We required a press with a feed speed of 160 m/min." This feat of strength was necessary because the new single pressing line was replacing four existing lines. The company chose a WEINIG DKK 115 through-feed press. Its role is to create a continuous strand from the pre-milled and glued infed timber. A feed unit accelerates the lamellae and transports them to the feed-in station, where they are handed over to two servo-controlled, synchronous aligning chains. This ensures continuous jointing with no offset. The master computer knows exactly which infeed lengths and cross sections are coming to the press. The DKK 115 adjusts itself automatically. At the end is a continuous flow of glulam lamellae, which is pushed relentlessly towards the planing. This is a special case as the feeding power of the DKK must also be sufficient for downstream planing. Two 90 kW electric motors are therefore used. The improved chip removal of the WEINIG planer proved decisive. The Powermat 2500 saves at least one millimeter. Since the Kundl sawmill invested in the same planing technology in its quality sorting, it has benefited from the combined effect of the two machines. Performing the cutting in its own sawmill also allows the smaller input dimensions to be reflected one-for-one in the cutting dimensions. For a glulam factory with an output of 100,000 m3/year, this represents an enormous saving.
Source: Holzkurier