Attack is the best form of defense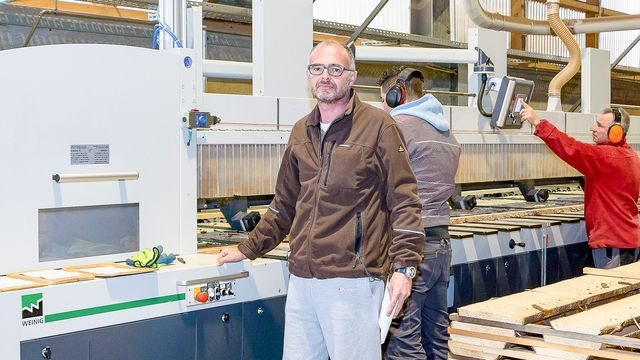 Daniel Schläpfer was recently faced with a few challenges. Fifteen years ago, he was able to offset the slump in revenues in the construction industry with high flexibility and expanded production depth. Now, once more, he has taken forward-looking action.
Competition among Swiss sawmills is fierce. Out of 1,500 sawmills that were active in Switzerland around 15 years ago, just 300 remain. Those who want to survive must be flexible and produce profitably. Since the crisis in the construction sector, Scierie de Cornaux on Lac de Neuchatel near legendary ski resort La-Chaux-de-Fonds in Switzerland has increasingly focused on private orders. Now, a good blend of special orders, such as stair treads, as well as a number of major orders, ensures high capacity utilization.
To ensure that business remains strong in the future, Daniel Schläpfer took the decision to modernize his production operation. It was essential for him that the new saw could be used universally – without elaborate and time-consuming pre-setting when changing from one application to the other. Thus, one year ago, he invested in a WEINIG FlexiRip JrionLine longitudinal circular saw of the latest generation. Combined with a compact mechanization concept, the machine runs daily throughout a nine-hour shift.
The new FlexiRip fulfills the objectives of producing more profitably and achieving higher capacities to the complete satisfaction of the sawmill. "It was the right decision. With the FlexiRip, we have laid the foundations for growth and future-proofing," assessed company boss Daniel Schläpfer.
Photo:
Satisfied with his new cutting solution: Daniel Schläpfer