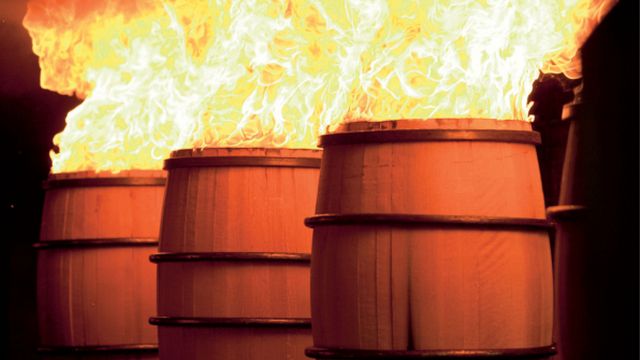 When it comes to distilling a good Bourbon whiskey, Jack Daniel's has long set the standard. Now, the production of the barrels is also state of the art.
The taste, aroma and color of the whiskey is largely determined all around the world by the barrels in which the whiskey is stored for years. However, Europe and the USA prefer different processes.
While in Europe, the whiskey producers swear by the qualities of old oak barrels, in the USA they prefer new barrels that have been charred. This creates the strong vanilla aroma during the aging process. Before filling the barrels, the distillate is also slowly dripped through a meter-high stack of charcoal. This makes the whiskey softer and purer.. Each barrel must only be filled once.
Naturally, this also applies to traditional company Jack Daniel's: 3,000 barrels of the famous Bourbon whiskey are distilled every day in the computerized production facility in Alabama. Until recently, the complex barrel staves were still made by hand. This meant poor wood recovery. So it was little wonder that parent company Brown-Forman decided to re-consider the production process. They opted for WEINIG. Now three Powermat 2400 moulders are on hand for the task. The solution is customized for the high demands of the special cross-section of the barrel staves and includes CNC-controlled jointing technology. Even at high feed speeds, geometrically identical workpieces can be created.
"With the help of WEINIG and the Brown-Forman specialists, we are now able to produce better barrels more quickly, more safety and with less effort," summarizes Larry Comps senior, Vice-President and Managing Director of Jack Daniel's.
The know-how also impressed the US association of wood processors. The WMIA awarded Brown-Forman the honor of "Innovator of the year". WEINIG is happy to have played our part and says "cheers"!