The ingenious sandwich for creatives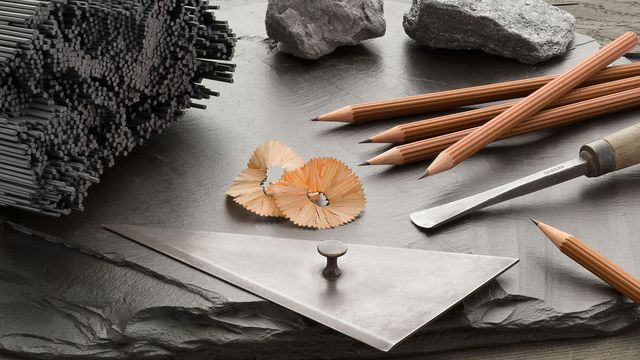 Anybody who nibbles on a pencil while thinking normally does so on a pencil from world market leader Faber-Castell. It may not taste like a sandwich, but the wood-cased writing implement is the epitome of a perfect sandwich design.
Few companies have as long a tradition as German firm Faber-Castell. Joiner and family forefather Kaspar Faber manufactured the first pencils with graphite leads and wooden casing back in 1761 and sold them at Nuremberg market. More than 250 years later, the largely unchanged product is still here. Moreover, 2016 was the most successful year in the history of Faber-Castell. The drawing equipment manufacturer produces 2.3 billion writing utensils each year.
The timeless benefits of the pencil lie in its simple handling, its versatility of use owing to the different levels of hardness and the ability to remove that which has been drawn or written with an eraser. However, these are only some of the secrets to the company's success. The decisive factor is the unique cult status the Faber-Castell brand has been able to generate. In the high-end market segment, the German manufacturer's products are synonymous with quality and style. As "creative instruments", they have become treasured means of expression for art and leisure activities. Not least because stressed-out, modern humans have discovered drawing as a means of relaxation.
Faber-Castell currently manufactures in nine countries and has sales companies in 23 countries as well as sales representatives in more than 120 countries. To secure its market position for the long term, the sector giant values efficient and ecological production with high quality standards. For years, the manufacturer has trusted in WEINIG as a partner for producing its wood-cased pencils. In partnership with the world market leader from Tauberbischofsheim, they have developed solutions specifically tailored to their individual requirements, which are in use in a variety of international production facilities.
WEINIG machines play a central role in the manufacturing process for pencils and colored pencils. The first stage involves sawing thin lamellae. A Powermat then cuts parallel grooves in the lamellae, which are around half as thick as the final pencil, before the leads are laid in the recesses. The next stage is to glue on a second, identical lamella from above. The "sandwich" is then planed to produce round, triangular or hexagonal end products. What appears simple is actually quite demanding to produce. Pencils pose particular challenges for machine technology owing to their small work piece dimensions. The WEINIG solution primarily impressed Faber-Castell with its minimal tolerances of 2/100th millimeters as well as its high level of repetition accuracy and extremely fast retooling.