Cutting: How WEINIG makes Tricor even stronger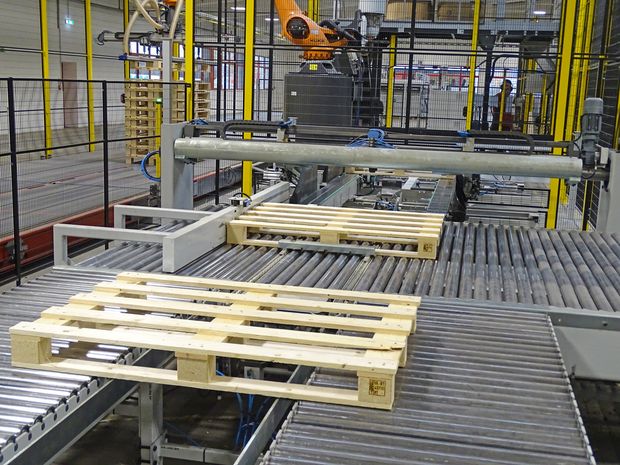 Freight transport is one of the world's major growth markets. Manufacturers of wooden packaging are also benefiting from this. One outstanding representative of the sector is Tricor, the European market leader in heavy-duty corrugated cardboard packaging. Customers come primarily from the automotive and mechanical engineering sectors as well as the electronics, medical technology and chemical industries. For a long time, the company purchased its annual requirement of 1,300,000 special pallets. Then the company contacted WEINIG.
High demands
Besides extremely high productivity, improving the value chain was also on their wish list. In June 2017, a highly automated cutting system was delivered to the Eppishausen plant. Central components comprise three parallel OptiCut 260 optimizing cross-cuts saws with Varioband infeed and downstream sorting by length as well as an Ultra TT finger-jointing line for leftover pieces from 150 mm. The finger-jointed lamellae are then fed back into production. Only three employees produce up to 360 pallets per hour on the high-performance production line, which is linked to a Corali pallet system. For a pallet measuring 1,220 x 820 mm, this equates to approx. 80 m/min of incoming materials to the cross-cut saws or around 30,000 running meters per shift. The system is charged via vacuum destacking, which takes up to three infeed stacks simultaneously with three different wood dimensions. The boards are checked via automatic humidity measurement before a layer allocator assigns one dimension to each of the three saws.
WEINIG leads the sector
Dr. Mario Kordt, Managing Director of Weinig Dimter, underlines WEINIG's special position in the packaging segment: "With our technology, we provide a unique service to an area that ranges from 2-man operations to the industrial sector." With Weinig's expertise in cutting, gluing and scanning, the WEINIG Group customer receives from a single source everything that is needed to ensure the efficient and economic production of pallets and wooden packaging.
Photo:
Impressive: Pallet production at Tricor in Eppishausen (Germany)