HOLZ-HER makes long-term investments in the future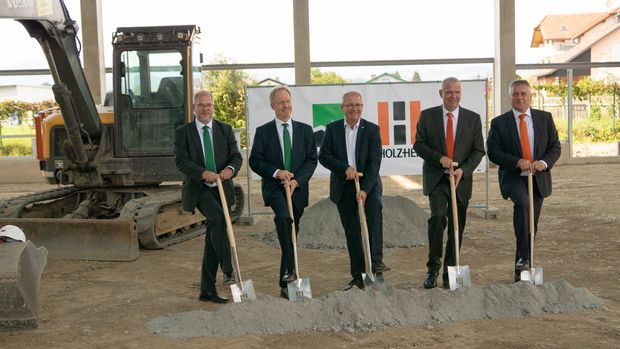 The first expansion stage, a new assembly hall with floor space of 1,700 sq. meters, will start operation as early as the beginning of December this year. Expansion stage two, a new, highly automated storage hall, will be started in the Spring of 2023. During this phase the ExpoCenter showroom will be expanded and the entire office infrastructure modernized.
Hearty words of greeting were extended to the guests from the Weinig Technical CEO, Dr. Georg Hanrath, Harald Steiner, Business Manager at Holz-Her Maschinenbau GmbH in Voitsberg, Frank Epple, Business Manager at Holz-Her GmbH in Nürtingen as well as Voitsberg Mayor Mag. Bernd Osprian. Dr. Georg Hanrath explained the decision for these comprehensive investments in a few words: "The excellent development of Holz-Her has led to production in Voitsberg continuously reaching the limits of its capacity ever since 2019. In addition to expanding our production capacity with this expansion, we are also creating space to extend our portfolio of products. We are making these investments in the conviction that this location has a great future." added Harald Steiner in his speech. "By the end of the year 2022, over 2000 machines will be produced and shipped from Voitsberg. We believe that expansion of the assembly area by 60 percent is a sign of our recognition for this location and are simultaneously aware of the challenge placed on us." During the plant tour, Steiner also informed his guests of their own steel construction shop which will be supplemented with a fully automated laser cutting machine within the scope of these investments.
In the second expansion state, the entire logistics concept will be reconsidered. At the bottom line, effective, real-time supply of parts and material is more important than ever today. The new automated storage facilities save space and provide for an additional 3,000 sq. meters of floor space in the previous storage area for assembly. The planned expansion of the showroom is intended particularly for local customers and interested visitors from around the world to make their visit at Holz-Her in Voitsberg even more attractive.
Frank Epple from the Nürtingen Headquarters emphasized:"Holz-Her has developed a strong position as a trailblazer and competent partner for innovative customer solutions in conjunction with current topics such as standardized wood processing machines, automation, digital services and networked production. For this reason we greatly appreciate the close, professional cooperation with our production location. The additional capacity will help us serve our customers even faster."
Holz-Her is an important employer for the City of Voitsberg with its relatively small population of just 10,000 as well as for the entire region. The company offers qualified and secure jobs for approximately 400 employees. Mayor Mag. Bernd Osprian highlighted particularly the 22 trainees currently learning a profession at Holz-Her. "Because having their own training programs for apprentices as well as advanced training for older employees secures the future of the company. And this is something that is very important for our city."