Weinig shows its potential at LIGNA 2023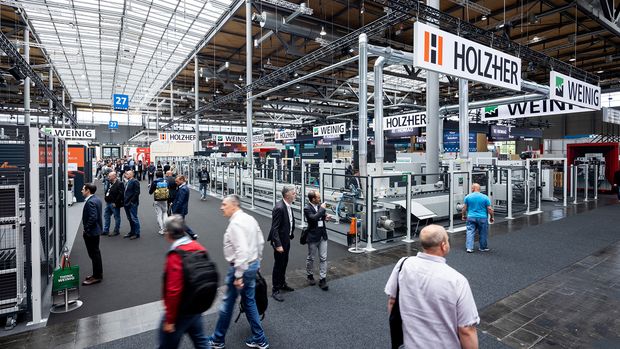 In terms of order inflow, the trade fair targets were achieved and orders from 28 countries were booked. Despite the general decline in visitors from 95,000 to 80,000, as reported by the trade fair organizers, the 5000 sqm Weinig stand was as busy as in 2019.
Both the large-scale systems for industrial production and the innovations in the machine portfolio for the small business sector were crowd pullers. The Weinig Grecon plant in Alfeld near Hanover also enjoyed great interest from visitor groups, who took the opportunity to obtain detailed information about innovations in finger jointing lines directly in the production plant near the trade fair - in addition to the HS 200 high-performance flat finger jointing line shown at the trade fair stand in combination with a scan and cross-cut line forming a high-speed system for the production of furniture components.
Live presentations of Weinig systems convinced the numerous visitors of the efficiency of the latest generation of machines and of the entrepreneurial opportunities offered by innovative automation including state-of-the-art robot technology and vacuum gantries. Due in particular to the shortage of skilled labor in the woodworking industry, the Weinig Group's automation and digitization solutions struck a chord with customers and generated a large number of inquiries.
One of the central topics of the trade fair was increasing resource efficiency through a wide range of innovative solutions in all product areas. In addition to the traditional magnets of planing, profiling and cutting, the experts from Weinig System Solutions were particularly convincing with their project expertise in linking individual modules to form efficient large-scale systems. Furthermore, the Weinig Group showed the possibilities offered by successive expansion of existing production systems and their adaptation to individual demand situations.
Optimized material use with simultaneous personnel savings with Weinig scanners and their artificial intelligence was one of the hot topics at the trade fair stand.
Showing customers how to safeguard the productivity and profitability of their machines and systems through needs-based service plans was the focus of Weinig LifeTime Services at the trade fair.
At the press conference on the first day of the trade fair, CEO Gregor Baumbusch presented good figures. The WEINIG Group achieved sales of 586 million euros in 2022. Chief Technology Officer Dr. Georg Hanrath reported on the record investment program at the company's headquarters in Tauberbischofsheim, where 70 million euros are being invested in state-of-the-art infrastructure. "We are very confident about this year to date and have received extremely positive feedback at LIGNA about the expansion of our product portfolio. Our customers benefit from the proven project competence of our experts, because Weinig, together with our new partners at H.I.T. and Essetre, is THE full-range supplier in the field of construction timber," the CTO said.