SPRINT 1327 doors: Solid wood processing on the edge banding machine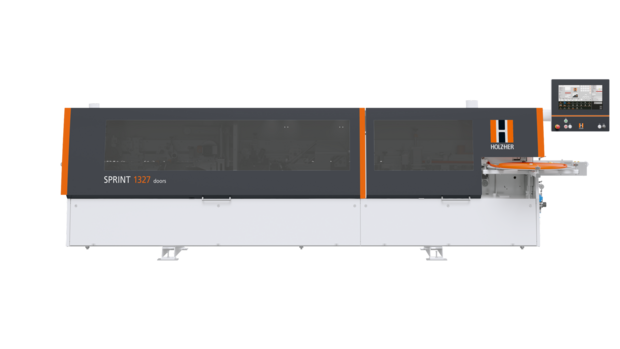 The "doors" series is specialized in solid wood processing, especially doors with solid wood gluing.
Our proven Synchro edge feeder holds glue sticks up to 150 mm and feeds them to the machine at a narrow 7 degree angle.
Short open glue line:
The compact design of the Sprint 1327 doors provides the shortest possible open glue path, which has a significant effect on the strength of the glue joint. This ensures that each glue joint is firmly bonded to the workpiece.
Glue joint in the usual HOLZ-HER quality - GluJet makes it possible:
GluJet can be perfectly adjusted to the workpiece - thickness by the proven millimeter serration of the glue nozzle, so the ideal amount of glue is always given. Even with solid woods, the glue joint is thus almost invisible.
2 or 3-stage milling
With up to 2 flush milling units and the cross-cut unit, which are also installed in the large edgebanders from HOLZ-HER, the hardest woods can be processed without any problems. This means that nothing stands in the way of a high feed rate and consequently more efficient work.