WEINIG Through-feed press: Your press for almost all glued-wood construction products.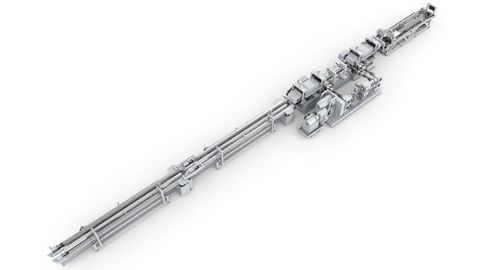 Using the through-feed press DKK, the feed-in line EUB and the following edging saw your can press all glued-wood products into a perfect strand and, if needed, cut them to fixed end lengths with the following edging saw. For example, the DKK can be used to produce all product for constructive timber house construction, such as glued laminated timber, double and triply beams. Because of the high speed of the strands from up to 160 m/min, the through-feed press DKK is also suitable for producing glued beams in high speed lines.
Your benefits:
High quality end products - by introducing the timber from all sides into the through-feed press, it is possible to have pressing without offsetting.
High process safety - the rigid top pressure prevents the timber strand from buckling.
The pressing power set is maintained permanently using hydraulic press cylinders.
Prices
x
Different requirements - different prices
The price of a WEINIG machine is just as individual as your requirements are. Therefore, let us discuss briefly what is most important to you – you will then receive our preliminary, non-binding quote.
Personal advice
x
Personal advice – for higher productivity and greater efficiency
Together with your WEINIG expert you will find the ideal machine for your requirements. Simply submit the completed form, and your local WEINIG expert will be happy to discuss all further details with you.
---
The WEINIG through-feed press offers you
Pressing without stopping
Cutting (sawing) without stopping
All offset joints are realigned
Can be combined with all high-performance finger joint shapers
Direct planing after the press is possible
The WEINIG through-feed press DKK offers you
High quality of the end product by processing from all sides
The through-feed press enables pressing without offsetting.
Hardened plate chain for high durability
Pressing in the throughfeed, without stopping
Automatic cross sectional changing
Adjustment via the center or the fixed side possible
Continuous monitoring of the process (pressure and slippage)
Segmented, pneumatic side pressure elements
Highly dynamic edging saw with capacity of up to 20 cuts/min.
Feed back of the braking energy