WEINIG OptiCut 450: The heavy-duty model for large cross sections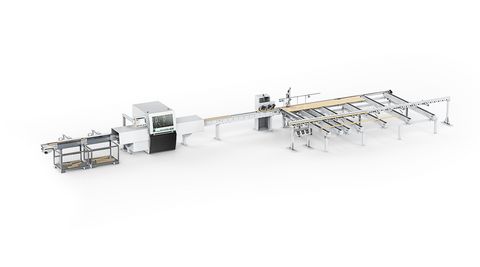 The OptiCut 450 can handle almost any quality of wood. This powerful machine is designed for consistent high production even when using lower grade or twisted wood. The length measurement of the entire work piece is carried out before the first saw cut. Thanks to drive-independent measuring wheels, faulty measurements due to slippage or belt elongation are ruled out. In combination with the intelligent optimization software, this guarantees maximum material yield. An additional measuring wheel in front of the saw blade ensures maximum cutting accuracy.
The robust saw body of the OptiCut 450 has three driven overhead feed rollers which follow the wood contour, ensuring maximum grip, precise positioning and high acceleration. This guarantees continuously high performance even in multi-shift operation.
In addition to optional software solutions to optimize your production, various mechanization solutions are available. An OptiCut is constructed according to a modular system, which means that you are also well equipped for the future. You can react quickly to changing market requirements by adding appropriate extensions. Connecting scanners, OptiCut Stackers (for automatic stacking of preferred lengths) and/or extending the system to create multiple cross-cut lines are no problem.
Prices
x
Different requirements - different prices
The price of a WEINIG machine is just as individual as your requirements are. Therefore, let us discuss briefly what is most important to you – you will then receive our preliminary, non-binding quote.
Personal advice
x
Personal advice – for higher productivity and greater efficiency
Together with your WEINIG expert you will find the ideal machine for your requirements. Simply submit the completed form, and your local WEINIG expert will be happy to discuss all further details with you.
---
The WEINIG OptiCut 450 provides
VarioSpeed infeed belt as standard
Three driven overhead feed rollers follow the wood contour
Pneumatic saw stroke
Cutting of cross-sections up to 310 x 12 mm or 190 x 120 mm is possible
Integrated waste gate as standard
Measuring wheel in front of saw blade
Saw blade diameter 500 mm
Min. fixed length behind saw blade: 150 mm
Cutting tolerance ± 0.8 mm to 1000 mm length
The OptiCom Pro operator interface is available in two sizes - 15' and 18'. The modern industrial TFT screen convinces above all by its simple and intuitive operation, which does not require any special PC knowledge. The pressure-sensitive touch screen can be easily operated with gloves and is also protected against splash water and dust. With the OptiCom Pro, the advantages of the user interface come into their own. By displaying the toolboxes, the operator can display additional information or can access numerous production, machine and service functions directly. To display the work area at maximum size, the toolboxes can also be completely hidden. This enables better readability, especially from a greater distance.
Expanding and retrofitting - the most flexible of its kind
The OptiCut 450 is the most flexible machine of the series in terms of retrofitting. Different wood qualities have different requirements. That is why WEINIG offers the right equipment package for every application including suitable feed rollers with different surface coatings.
If market requirements change or you want to react to short-term customer requests, you can expand your product range quickly and flexibly. Rough and planed surfaces can be processed in the same shift without problems. Gummed rollers are easy to clean - for reliable high performance day after day.
The OptiCut offers enormous performance potential in every respect. To maximize this potential, the intelligently controlled VarioSpeed, among other things, reduces the spacing between consecutive workpieces as much as possible. The OptiCut thus provides a continuous supply or workpieces, so that the idle time of the machine is minimized. This increases the profitability and productivity of the system.
Reliability and safety as standard
The OptiCut offers the safest solutions for reliable and trouble-free production even in the standard version – with full capacity utilization of the saws. Machine components, such as the intelligently controlled waste gate, which is precisely harmonized with the performance of the cross-cut saw, ensure smooth production. With the help of the waste gate, the waste parts are reliably separated from the OK parts immediately after cutting, avoiding problems with sorting and further processing. The multi-stage system also allows longer waste parts to be directly discharged – avoiding additional stages that impact performance.
Secure workpiece guidance
From the marker table to sorting, the OptiCut guarantees continuous and secure workpiece guidance. For example, inside the cross-cut saw, a continuous fence ensures a clean and exact alignment and a right-angled cut of the workpieces.