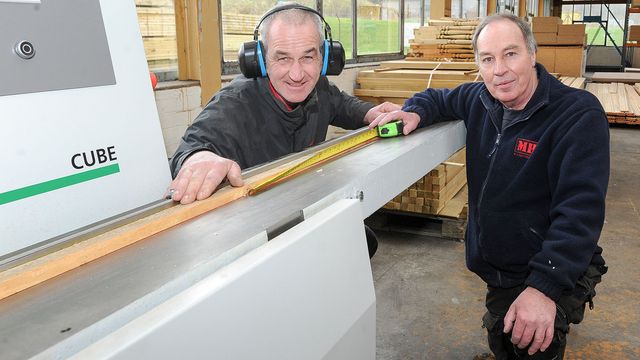 It's magic! This advertising slogan for the four-sided Cube is on the lips of more and more British woodworking professionals. Tweedside Timber are the latest to invest in a "magic Cube".
Tweedside Timber is part of MH Southern & Co. Ltd., a family-run company based in the north of England. And a company laying the foundations for growth. When it came to modernizing the production facilities, greater competitiveness and increased flexibility were at the top of the agenda. As a result, Tweedside Timber opted for WEINIG technology. In addition to two Powermat 1500s, including a tool grinding system, the company acquired a Cube, specifically selecting the compact four-sider following an intensive market comparison. James Southern on his investment plan: "We wanted to be more flexible in order to better adapt to market developments and to respond more quickly." The Cube plays a vital role in this strategic orientation. "Our customers now come to us spontaneously whenever they need rectangular goods," says Manager Richard Dobson of Tweedside Timber.
Regardless of the required dimensions, the company can produce the desired product there and then. Richard Dobson is impressed: "The Cube is a revolutionary machine. It is simple and safe to operate. We do not have to set aside one of our machine operators to get the job done." Malcolm Cuthbertson, Managing Director of Michael Weinig (UK) Ltd., hails from the same area as Tweedside Timber. He is proud that a company from his home region has joined the large ranks of Cube owners. He also intends to take advantage of the extraordinary service offered by the Cube in the near future.