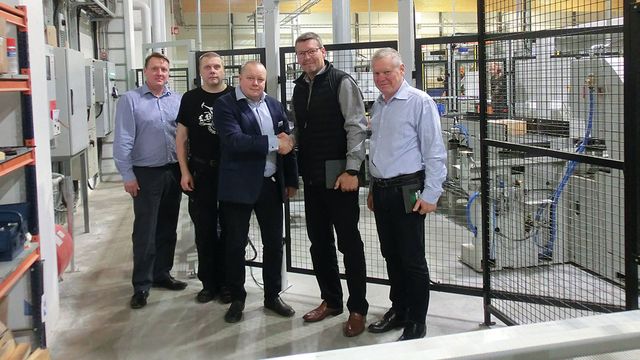 There is practically no decorative profile or wall cladding that Finnish company Maler, based in Ylivieska, cannot make. In order to balance product diversity, quality and price, the company invested in a new WEINIG Turbo-S 1000 finger-jointing line.
Finger-jointing lines can optimally utilize even lower quality material. Jani Oikari, Managing Director of Maler, was optimistic from the outset: "Finger jointing is the key to efficient production." Consequently, he invested in a Turbo-S 1000 along with various customer-specific options. He turned to WEINIG and our Finnish representative Penope in Lahti following years of positive experiences. "When you are investing such an amount, you also want to be certain that the required production capacity will be achieved," says the entrepreneur. Following consistent strong growth, the company now has to fill a 12,000 m2 warehouse while also fulfilling special requests quickly and at a reasonable price. Maler serves both DIY stores and industrial customers, imposing high standards in terms of volume, delivery times, quality and consistency.
The new system will align the partly very delicate and short pieces highly precisely lengthwise and transport these to the milling and gluing station. Thanks to the WEINIG Trimsaver system with two laser measuring units, parts cut at angles are to be detected and accurately aligned. With an upgrade, these parts can even be discharged at the separation station by switching the belt into reverse. This means no more open joints and in consequence an increased timber yield. Work pieces with wane are centered at each belt transfer so that no wood can get jammed. Maler uses these resources deliberately for profiles on which this area will be removed in any case. This way, the manufacturer aims to gain the maximum yield from its raw materials. "We advised Maler to use a 7 mm joint to almost eradicate tears," says WEINIG expert Dirk Bartens. The customer is clearly convinced by the results. Jani Oikari is delighted with the consistently high jointing quality.
Photo: Shaking on it: For Jani Oikari, a deal is not least a matter of trust
Source: Holzkurier